Original HP IPAQ Portable Keyboard (384178-031)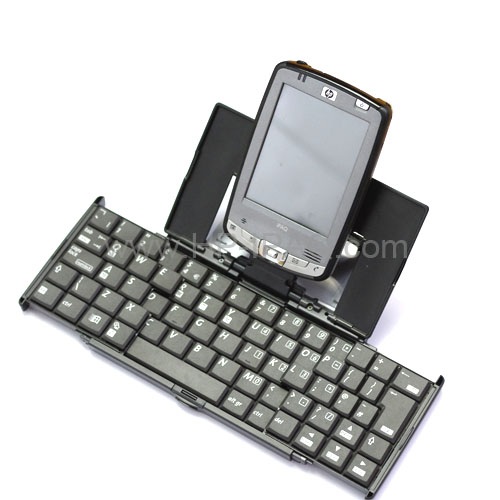 Original HP IPAQ Portable Keyboard (384178-031)
Description:
Improve productivity when using the iPAQ Pocket PC alone or with an Expansion Pack.
The standard layout allows you to effortelessly take notes, email or write reports.
It's great for entering a large amount of data quickly. When not in use the keyboard folds up into an ultra-small package for easy portability.
Specifications:

Color: Carbon

Depth: 3.7 "

Height: 0.5 "

Width: 9.1 "

Weight: 0.4 lbs

Compliant Standards: BSMI, C-Tick, CE, UL, VCCI
HP iPAQ h1900 Pocket PC series h1940 series - h1940, h1945
HP iPAQ h1900 Pocket PC series h1930 series - h1930, h1937, h1935
HP iPAQ h1900 Pocket PC series h1910, h1915, h1920
HP iPAQ h2200 Pocket PC series h2210, h2215, h2212, h2212e
HP iPAQ h3800 Pocket PC series h3870, h3875, h3835, h3860, h3830
HP iPAQ h3900 Pocket PC series h3970, h3975, h3950, h3955
HP iPAQ h4100 Pocket PC series h4150, h4155
HP iPAQ h4300 Pocket PC series h4350, h4355
HP iPAQ h5400 Pocket PC series h5450, h5455
HP iPAQ h5500 Pocket PC series h5550, h5555
HP iPAQ h6300 Pocket PC series h6315, h6320, h6325, h6340, h6365
HP iPAQ hx2000 Pocket PC series hx2190 series - hx2190b, hx2195b
HP iPAQ hx2000 Pocket PC series hx2100 series - hx2110, hx2115, hx2141s
HP iPAQ hx2000 Pocket PC series hx2400 series - hx2490b, hx2495b, hx2490c, hx2410, hx2415
HP iPAQ hx2000 Pocket PC series hx2700 series - hx2790b, hx2795b, hx2790c, hx2750, hx2755
HP iPAQ hx4700 Pocket PC series hx4700, hx 4705
HP iPAQ hw6500 Mobile Messenger series hw6515 series - hw6515a, hw6515b, hw6515c, hw6515d, hw6515f
no camera - hw6510, hw6510a, hw6510b, hw6510c, hw6510d, hw6510g
HP iPAQ hw6900 Mobile Messenger series hw6910, hw6920, hw6940, hw6950, hw6915, hw6965, hw6955, hw6945, hw6925
HP iPAQ rx1900 Pocket PC series rx1950, rx1955
HP iPAQ rz1700 Pocket PC series rz1710, rz1715,rz1717